The 10 Best Vegan and Sustainable Running Shoes Right Now
And so, the season is upon us. The season where, for the slightly more faint of heart, the great outdoors becomes a great place to actually spend some time. The mud is drying and the trails are clear. The roads have a modicom of traction once again. In short: it's running season.
Here at FUTUREVVORLD, we spend a lot of time thinking about shoes: how they're made, what they're made from, and what they're meant to do. We also spend a lot of time thinking about the outdoors: protecting it, promoting its physical and mental benefits, and just straight-up enjoying it.
This list is a combination of both. A non-exhaustive, unsponsored and entirely unranked selection of the best vegan, sustainable, and otherwise ethical performance footwear. And yes, we've called this list the "10 Best" – maybe "10 of the Best" would be more accurate. But, hey, we live in the age of superlatives.
From Nike to norda, HOKA to mizuno, whether you're new to the trail or just picking up where you left off at the end of the last season, these are the shoes we've picked to help you hit the ground running.
And away we go.
The Shoe: norda 001 (and 002)
Planet-friendlier Credentials: Animal free. Bio-based Dyneema® upper, Dyneema® and recycled polyester laces. Dyneema® is sustainably sourced, BlueSign® approved and ISCC certified – with the lowest carbon footprint of any high-performance fiber, 75% of the energy used to manufacture Dyneema Fibre® comes from renewable energy.
In its application by norda, the material creates shoes that are light and long-lasting, designed to do the job and to be durable, preventing unnecessary waste.
FVV Notes: Our love for the norda 001 isn't exactly a secret. Between the Canadian brand's impressive use of bio-based materials and an expert eye for brand collaborations (producing links with labels like Satisfy and Zegna), norda has created a shoe noteworthy for its progressive material philosophy and its aesthetic quality.
What norda has also created in the 001 – equally if not more essential to its success – is a shoe that thrives on serious technical performance.
RRP: $285 CAD
NB: As of writing, the norda 002 hasn't officially released. But, given the label's choice to describe it as "a precise and agile specialist that excels on technical and steep terrain," and created to serve "the future of trail running," we feel more than confident including it here.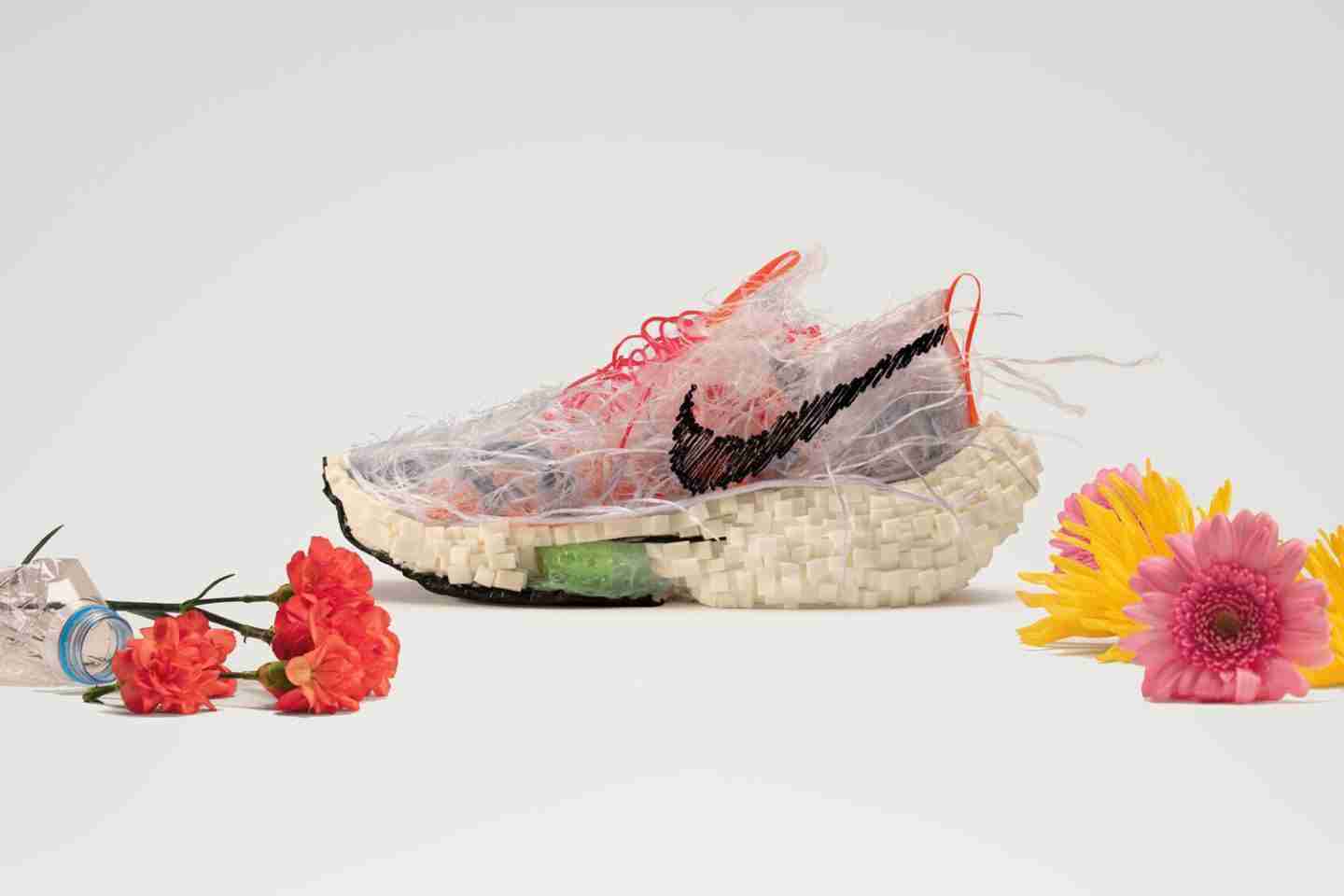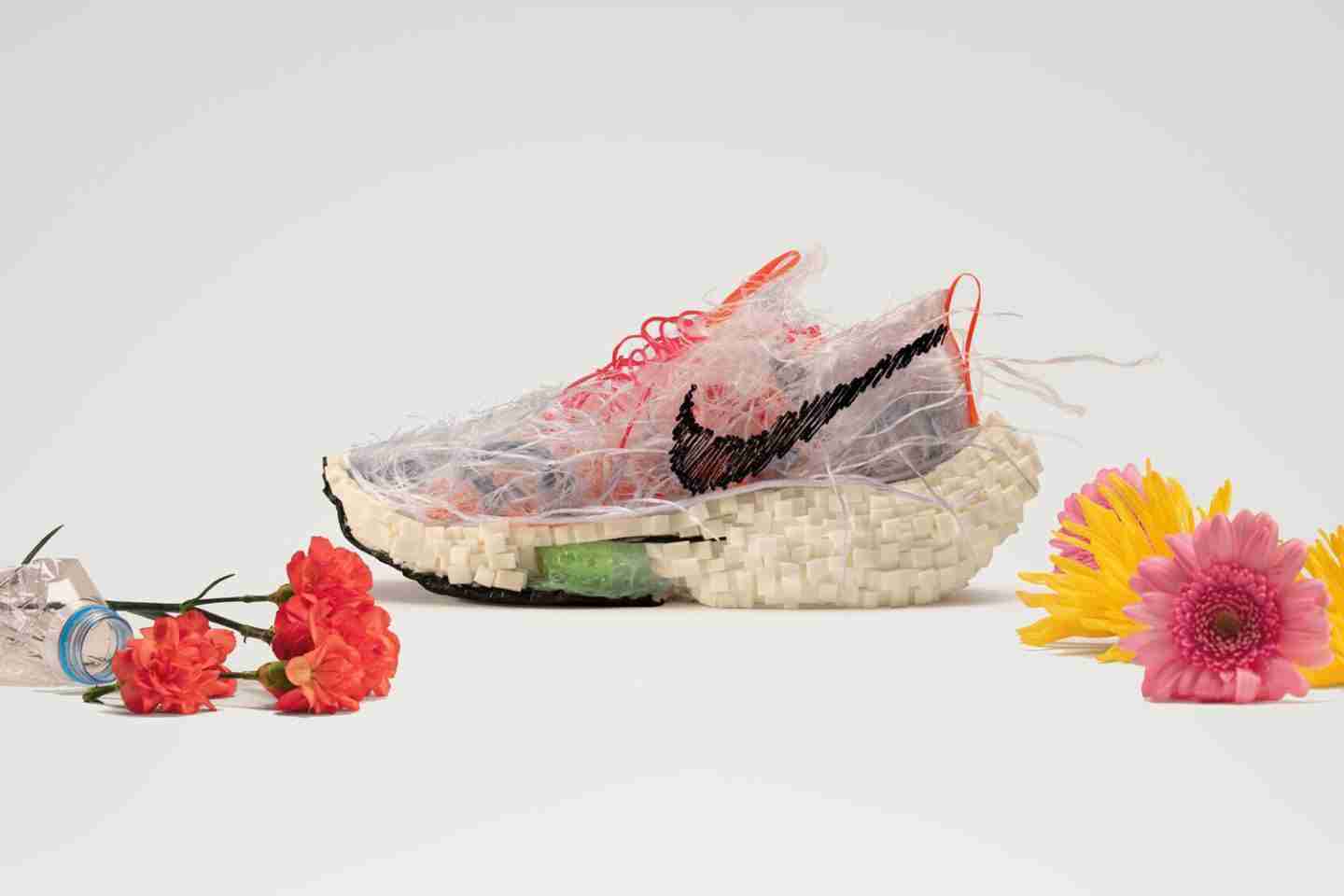 The Shoe: Nike Zoom Alphafly Next Nature
Planet-friendlier Credentials: Animal free. Boasts an impressive 50% total recycled content by weight. Comprises a Nike ZoomX midsole, made with at least 70 percent recycled materials by weight, and repurposed for the sock liner, as well as a hybrid Nike Flyprint and Nike Flyknit upper using leftover waste from airbag production in the 3D-printing process.
FVV Notes: The upper may look kind of like the inside of a computer and the sole may look kind of like it came from a future where everyone bounces through life, but – actually, you know what, I don't know why I'm saying but here at all. Both of those things are great and both of those things contribute to making this a great-looking, cyberpunk-inflected shoe.
The Zoom Alphafly Next Nature is more than just a pretty face, though. It's lightweight, natural-feeling, stable and – most importantly for some – it's also fast as a result of all these things. Nike refers to this as its "pinnacle performance product," which, in a crowded field, ought to tell you something.
More objectively, The Running Shoes Guru describes it as "a super shoe which has exceptional versatility." Which pretty much sums up our thoughts too.
RRP: $300 USD
The Shoe: HOKA Speedgoat 5
Planet-friendlier Credentials: Confirmed fully vegan shoe. (Please don't ask us if the glue is vegan. If there's glue, it's vegan.) Made from a mix of recycled materials, including a double-jacquard mesh upper made from recycled polyester and described by t3 as providing "a comfortable, flexible fit."
FVV Notes: While the Speedgoat 5 is a lightweight offering from the California-headquartered brand, that doesn't translate to being light on features. The number five boasts a Vibram® Megagrip with traction lug, included with the purpose of providing enhanced grip on uneven ground, and protective toe cap to insulate your digits from debris. The Speedgoat 5 also has an extended heel tab – which sounds way less impressive than the other features, but anything that makes a shoe easier to get on or off is worth a mention.
In terms of the look, coloration follows the typical HOKA fashion of multiple options in the "luminescent" and "neon" categories with not so much on offer for fans of earthier, more neutral tones. Basically, they know who they are. And you have to respect that.
RRP: $155 USD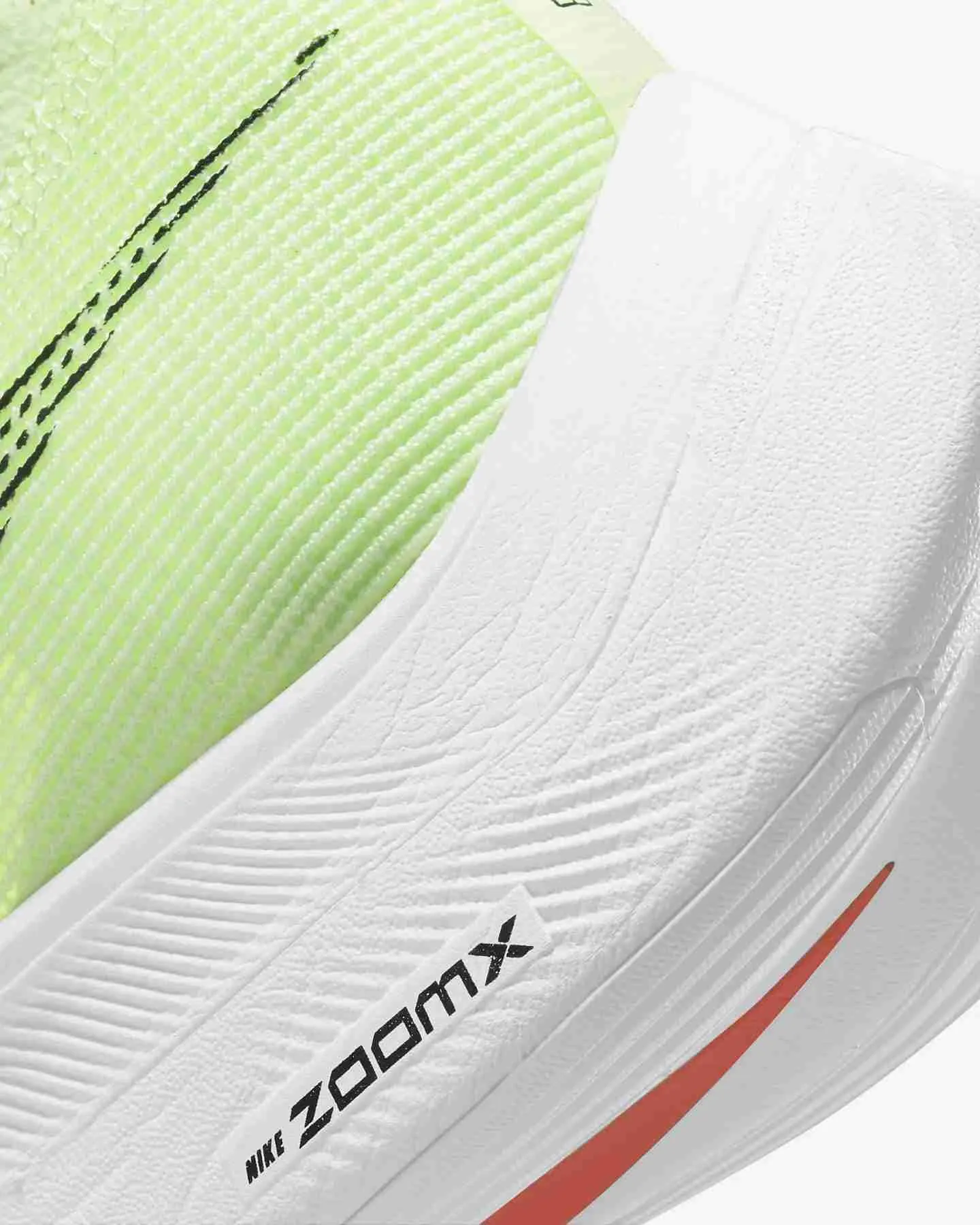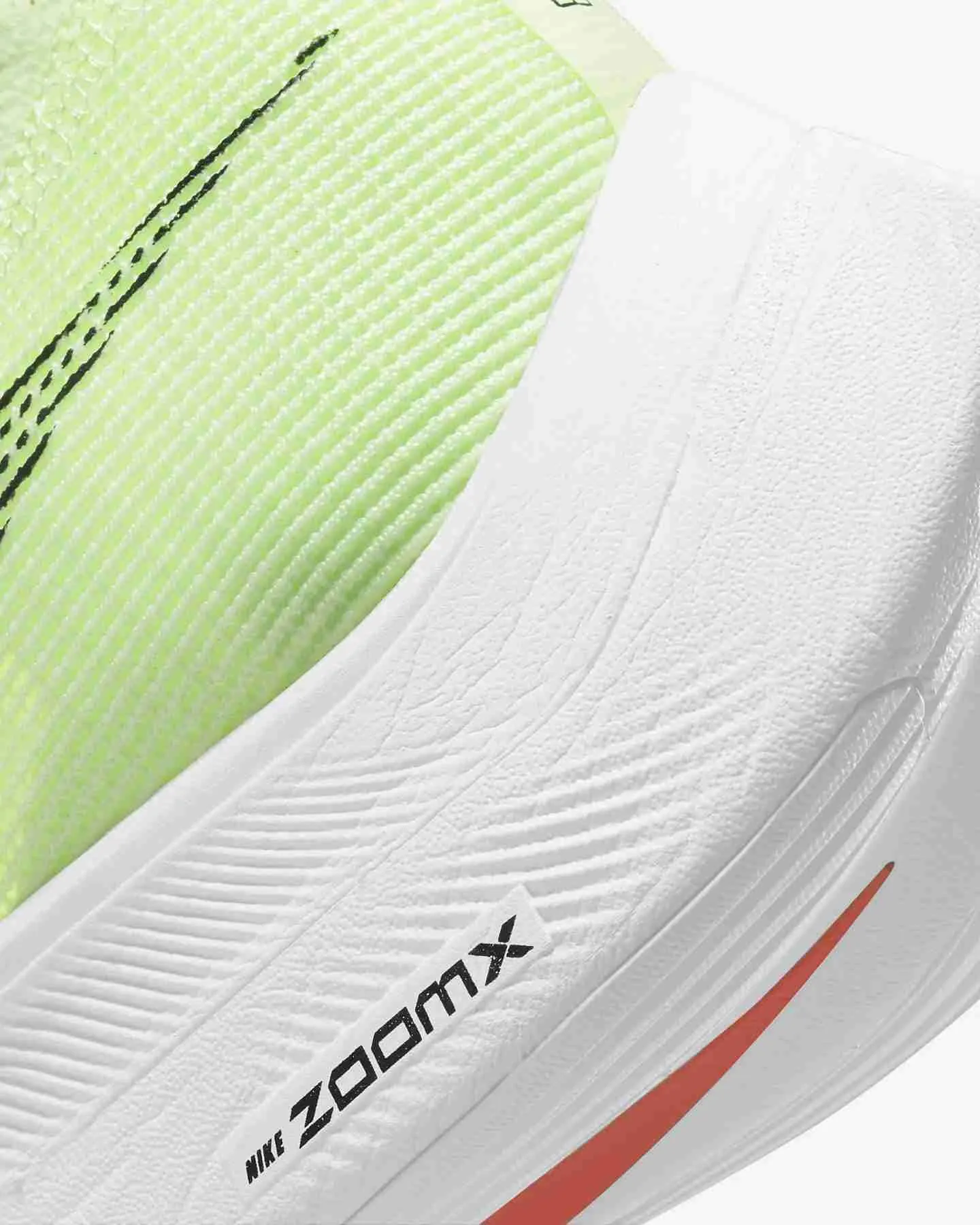 The Shoe: Nike ZoomX Vaporfly NEXT% 2
Planet-friendlier Credentials: A performance-led and wholly vegan shoe, the ZoomX Vaporfly NEXT% 2 is part of the same NEXT% system as the Alphafly. As a result, the shoe features part-recycled materials and no animal-based products in an effort to push Nike's emissions-related "Move to Zero" goal.
FVV Notes: The most important thing about this second version of the ZoomX Vaporfly NEXT% is that it doesn't fix what isn't broken; it doesn't try and change a system that's already been proven to work and provide returns for runners. All of the technology and materials – ZoomX foam and the unique shape of the carbon plate – remain the same, with only the upper section of the shoe receiving an update.
Now weighing just 6.6 oz (187g), the ZoomX Vaporfly NEXT% 2 is a lighter, more flexible shoe that confirms more readily to the foot of the wearer for added stability and that little bit of extra comfort.
RRP: $250 USD
The Shoe: adidas Adizero Adios Pro 3
Planet-friendlier Credentials: No animal-based products. Part of adidas' longterm goal to eradicate virgin polyester from its offering, the Adizero Adios Pro 3 boasts an upper made from minimum 50% recycled content.
FVV Notes: Decked out with technical features as well as noteworthy eco-credentials, the Adizero Adios Pro 3 combines lightness of feel with heavy-duty specs.
In the midsole, for example, are two layers of Lightstrike Pro foam – accompanied by the newly-designed carbon ENERGYRODS 2.0 – included here to provide superlative cushioning at the point where the foot makes contact; an absolute lifesaver on longer runs. Elsewhere, the outsole uses Continental rubber for high traction even at high speed.
This Adizero Adios Pro 3 also has the distinction of being a genuinely attractive shoe. A running show where the stacked sole and lightweight upper seem not to be vying for control, but rather to work in visual harmony.
RRP: $250 USD
The Shoe: ASICS SUPERBLAST™
Planet-friendlier Credentials: With zero animal-based materials, the SUPERBLAST™'s other Earth-positive elements are more-or-less contained to the sockliner. Still, it's no mean feat – this part of the shoe is "produced with the solution dyeing process that reduces water usage by approximately 33% and carbon emissions by approximately 45% compared to the conventional dyeing technology."
FVV Notes: ASICS went ahead and threw everything at this one, turning out a midsole with FF BLAST™ PLUS, FF BLAST™ TURBO cushioning, and "trampoline-inspired" AHARPLUS™ outsole rubber topped by an asymmetric mesh upper – a combination that adds up to a lighter, airier and more responsive feet-on-the-ground experience.
Aesthetically, the colorways on offer range from low-key "Cream/Mineral Beige" to a decidedly more effervescent "Hazard Green/Amethyst," while the silhouette itself has that particularly powerful aerodynamic look only achieved when a barely-there upper and extremely-there sole section combine.
RRP: $200 USD
The Shoe: Brooks Catamount 2
Planet-friendlier Credentials: Admirably transparent in terms of sustainability, the Catamount 2 can not only claim to have an impressively-exact 40.3 % Recycled materials in the upper, but also to contain an equally down-to-the-decimal 5.12 plastic bottles. All 5.12 of which were diverted from landfill to become a part of the shoe. And, of course, it's free from animal-based materials.
FVV Notes: Are these the most beautiful running shoes you've ever seen? No, they're not. There's no getting around that. But what she lacks in beauty, the Catamount 2 more than makes up for in brains – in intelligent technology deployed to provide uphill efficiency, maximum traction, and ultra-responsive cushioning.
Elevation velocity comes from the SkyVault propulsion plate, the DNA FLASH midsole – which is crafted from nitrogen-infused compounds – provides responsive cushioning, and the TrailTack rubber outsole offers all-weather traction. All of which adds up to a lightweight, heavy-duty shoe which more than earns its categorization under the Brooks "ultra trail" label.
RRP: $170 USD
The Shoe: Mizuno Wave Neo Ultra
Planet-friendlier Credentials: Made in part from recycled materials and no animal-based products, the Wave Neo Ultra's upper is crafted from undyed, recycled PET (polyester) – which, in a fun little detail, is used not only for the shoe laces but also the branding badge. Recycled polyester also makes up the heel lining, but the pièce de résistance here is a "bloom-infused" EVA sockliner made from algae.
FVV Notes: The Wave Neo Ultra has that rare almost onomatopoeic quality of looking exactly like sounds – its undulations and softened edges reflecting those ripples which provide its name. Those same ideas, of liquid surface tension, of gentle movement, of energy return, and of a seemingly-contradictory kind of softened stability.
Designed – counter to its naturalistic visuals – with road running in mind, the lightness of touch and spring in the step of the Wave Neo Ultra come courtesy of the MIZUNO ENERZY CORE – the highest functioning technology in the whole MIZUNO ENERZY series, making this an essential shoe for sustainability-minded tarmac enthusiasts.
RRP: £190 GBP
The Shoe: ASICS METASPEED™ SKY+
Planet-friendlier Credentials: The METASPEED™ SKY+ makes more or less the same claims as the SUPERBLAST™ in terms of reduced water usage and emission, with an upper made from a minimum 20% recycled materials and zero animal-based materials. (Reports vary on just how much recycled material that ends up being, though several reviews claim that the "Single Layer Engineered Mesh," at least, "is made from 100% recycled material.")
FVV Notes: ASICS goes for broke again here, lobbing a whole load of technology – technology like FF BLAST™ TURBO cushioning and ASICSGRIP™ outsole rubber – at the METASPEED™ SKY+ to create a monster roadrunning shoe loaded with blacktop-specific features.
Notably, in a boost for stride-style runners, the "energetic midsole foam" and "propulsive carbon plate" allow for conversation of energy, kept in reserve for when it's needed most, and helps to maintain a stronger pace – even, or especially, throughout longer races.
RRP: $250 USD
The Shoe: Nike Pegasus Turbo Next Nature
Planet-friendlier Credentials: "Responsibly designed utilising recycled materials from post-consumer and/or post-manufactured waste," according to Nike, the animal-free Pegasus Turbo is crafted from a minimum 50% recycled materials – including the 50%-recycled, full-length ZoomX and 100% recycled yarn.
FVV Notes: As we noted previously, runners wanted "an adaptable shoe, made responsibly, that had more foam underfoot," and – basically – they got it. Building on previous sustainability efforts with the Alphafly, this iteration of Nike's 100%-iconic Pegasus shoe comes with a midsole made with at least 55 percent recycled ZoomX foam.
In essence, this shoe does what few rarely accomplish: the Pegasus Turbo Next Nature updates a classic silhouette with cutting-edge technology, contemporary design elements, and a progress-meets-performance philosophy, without compromising on all the things that made it a classic shoe in the first place.
FVV Notes: $150 USD
As time goes on and technology moves with it, we'll do our best to keep this list up to date. For now, if you're interested in hearing more about sustainable, vegan, and planet-friendly footwear – consider signing up the FUTUREVVORLD newsletter.
Feature images: norda / Satisfy Running