Jaden Smith and New Balance Team Up for Colorful, Vegan-Friendly Vision Racer
The multi-hyphenate Jaden Smith is not one to shy away from making a statement with any project. His ongoing partnership with New Balance has evolved into a platform to promote and bring to light the many inspirations that push the artist. The latest is the "Trippy Summer" capsule collection and it includes two unisex versions of his New Balance Vision Racer that are vegan-friendly, feature recycled materials, and serve as a direct nod to Smith's love for the 1970s flower-power aesthetic.
The sneakers feature 5% EVA regrind in the midsole and 100% recycled polyester sourced from post-consumer plastic for the upper textile, upper lining, and tongue material. Synthetic leather is used for the sneakers' upper and is made from PU layered onto a thin polyester base, which is also 60% recycled polyester.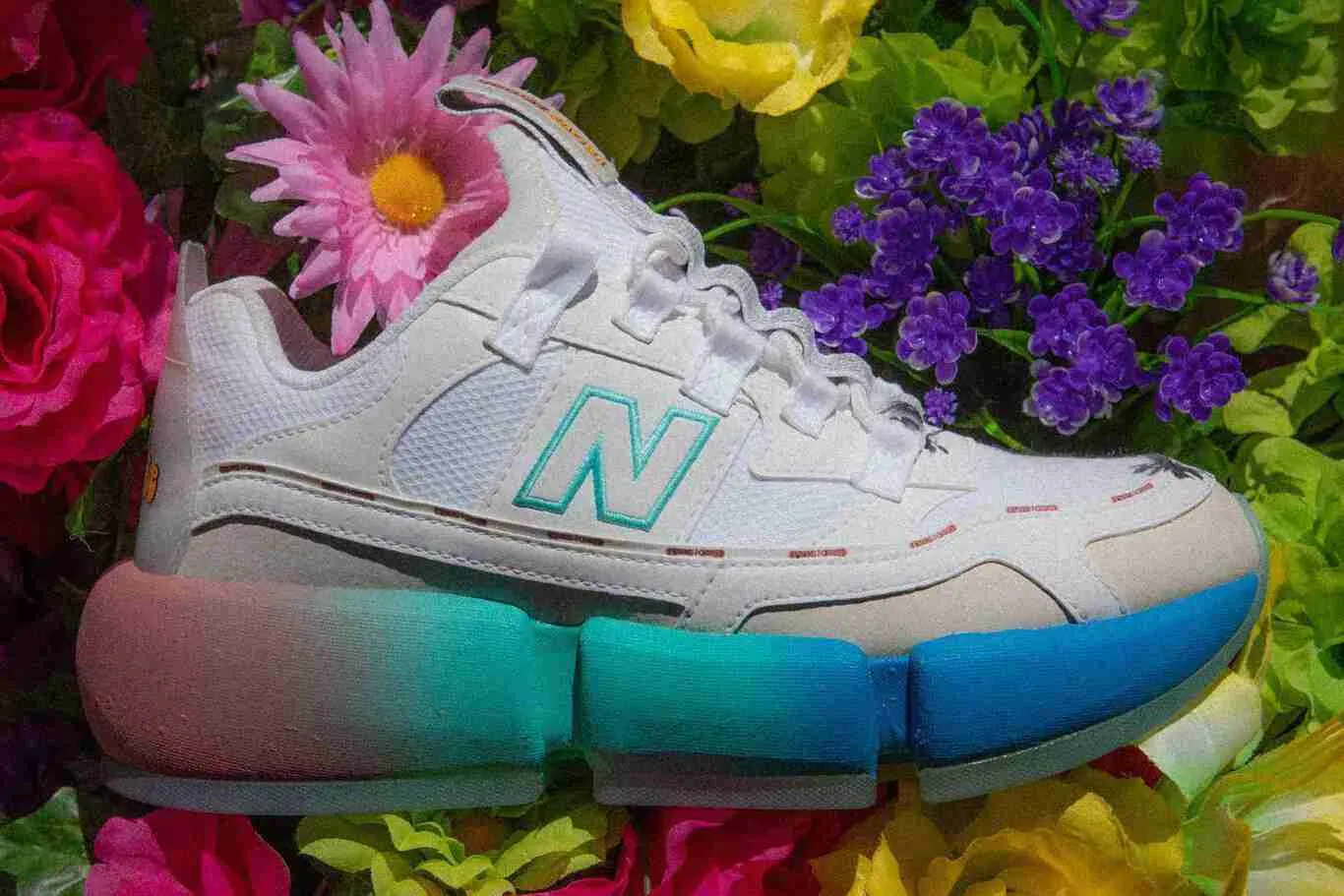 The shoes utilize a dual density insole that include foam in a heel carrier. That foam is comprised of 6% castor bean oil, 15% recycled foam, 5% recycled rubber, and 74% virgin PU, while the heel carrier is made from 98% post-production leftover foam and rubber.
The silhouettes sport an off-white base with each model featuring distinct color accents throughout. One model is white with a gradation across the midsole that moves from red to blue, and the other color blocks orange, yellow, green, and purple. Tops are also included in the collection, and use 100% cotton for both the hoodie and T-shirt.
Since July 2020, Smith and New Balance have worked together to offer new iterations of the artist's signature Vision Racer silhouette. The shoe, which was a brand new model created with Smith at the time of the release, takes cues from the X-Racer and his favorite heritage model, the 1700, while merging the brand's classic design approach with Smith's unique and eclectic style.
New Balance's latest global campaign emphasizes the age-old saying "patience is a virtue," flipping the adage to stress the importance of acting on what's important now. "When you know what you want, waiting isn't an option," the brand states.
This ethos rings true for Smith. It's beyond doing a cool colorway or material swap on a shoe; it's about creating something brand new with the company, while showcasing ways to change the world, whether its breaking down gender norms, providing clean water to communities, or using an Earth-friendlier approach to product design.
Both Jaden Smith x New Balance "Trippy Summer" sneakers will be available for purchase via New Balance for $149.99 USD on July 30 at 10 a.m. ET. The hoodie ($89.99 USD) and T-shirt ($44.99 USD) will also be available on the New Balance site that same day.
In other footwear news, Nike released to the public its made-from-recycled-materials Olympic podium sneaker.