The On Cloudaway Is a Recycled, Hybrid Sneaker Perfect for Any Getaway
On Running has taken the world by storm, and there's no slowing down for the award-winning footwear brand. It's won the hearts – and feet – of many, boasting more than seven million runners in over 60 countries who have logged miles in the Swiss-designed silhouettes these past 10 years. The brand, which is also backed by tennis icon Roger Federer, seeks to "revolutionize the sensation of running" through technology that allows for "soft landings followed by explosive take-offs." On simply puts it as "running on clouds."
The On journey continues beyond strides on the track (or really anywhere you can get your steps in), while giving you the sense of adventure a run would take you on. It's next venture is the sustainable, adventure-focused sneaker, the On Cloudaway. While exploring safely and responsibly may be difficult at the moment, the brand new lifestyle-outdoor crossover model aims to give you a sense of escape, while staying closer to home – a new spirit of traveling meant to be more mindful, slower, and present.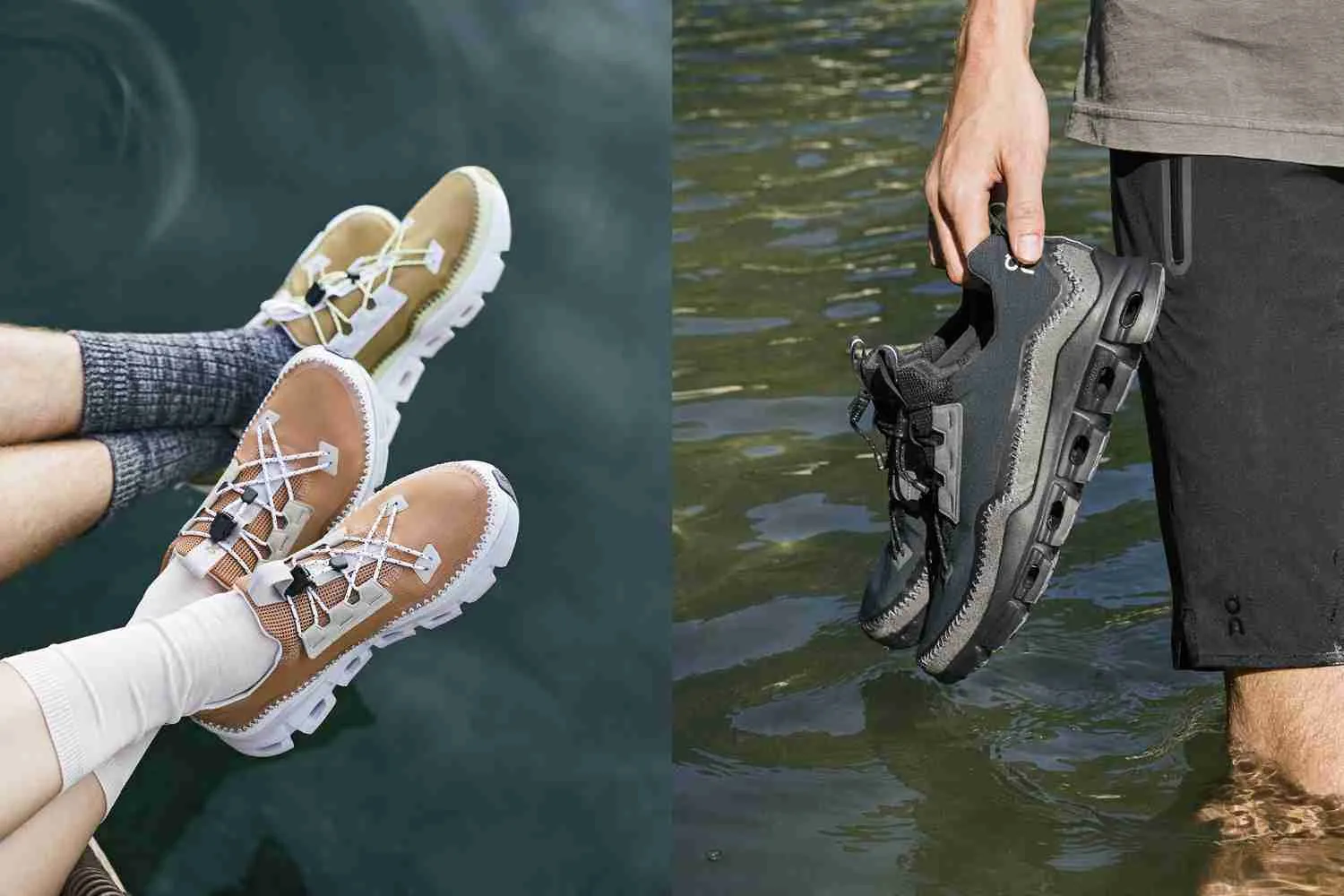 This recently-announced hybrid travel shoe is developed for all-day comfort using similar technology that bolstered On's running line as go-to performance sneakers in shops across the globe. It features a soft step thanks to the brand's patented cushioning system, CloudTec, found in the midsole, and a smooth rolling motion created from its tailored Speedboard, which places a liquid-injected plate of thermoplastic polymer between CloudTec and the upper for converting energy into the "explosive take-offs."
The Cloudaway's upper is sustainably-manufactured using vegan suede leather and lightweight polyester mesh engineered from 85% recycled content. It's finished with traditional footwear techniques using a Moccasin z-stitch locking in the upper with the mudguard for a unique heritage-meets-high tech look. A single-toggle, elastic speed lacing system allows for quick, slip-on access and a secure fit.
The shoe will be available in eight colorways including Almond/Glacier, Black/Rock, Ice/Chili, Bronze/White, Ink/White, and Black/Rock.
On aims to innovate ways in which sustainability and performance can live in harmony. "Growing up in the Swiss Alps gives you a special appreciation for the natural world," says On Co-Founder Caspar Coppetti. "Nature is not only where we play, it's also our source of inspiration and above all, it's our home. So of course we always wanted to protect it. But now, as a truly global company with a worldwide community, the challenges facing the world take on a new significance, and we take on more responsibility."
It's an ongoing process as the brand, which recently filed for an IPO, continues to scale. Coppetti adds, "The cool thing with sustainability is that, in our view, it's a key to increased innovation and performance for processes and products. And that's always been at the heart of what we do." Other examples of On's continued push for innovative, sustainable solutions is the On Cyclon shoe and its associated circular subscription service where customers pay $29.99 USD a month to receive a new running shoe after returning the same sneaker for recycling.
The Cloudaway goes to show that performance, Earth-friendly design, and style can all live simultaneously in one shoe. In order to bring the new sneaker to life, On has launched its temporary Cloudaway Travel Agency pop-up in Berlin and Los Angeles, where those interested in the model can experience the shoe first-hand while learning more about mindful, active adventure ideas and insider tips to explore those cities, including local business and community organizations.
The On Cloudaway sneaker is available now for $139.99 USD via the On-Running.com.