7 Earth-Friendlier Footwear Drops You Might Have Missed
When it comes to the world of footwear, a lot can – and frequently does – happen in a short space of time. Between, on one hand, the hype-and-drop cycle that perpetuates an infinite (if somewhat illusory) sense of demand and supply with little thought to impact, and – one the other – genuine material progress that creates a need for new product, there's a lot going on.
All that is to say: things move fast, and it isn't always easy to keep up. And so, with that in mind, we've put together a list of Earth-friendlier footwear releases – taken mostly from across the last month – that we think are worth mentioning. Things that you might have missed. And which, until now, so have we.
Whether they're plant-based, sustainably produced, recycled or created with circularity in mind, here's the seven drops we picked for you from March.
adidas Velosamba in "Cloud White / Team Navy Blue 2 / Better Scarlet"
Release Details: Available now, priced at $130, directly from the adidas web store.
When adidas launched the Velosamba in 2021, news of the release was met with enthusiastic nods from the cycling community. An all-in-one cycling cleat that's actually wearable as a sneaker for walking around in the world when you're not on your bike? Great. Makes perfect sense.
That first release did miss something though; something the brand put right with an update in 2022. Transforming the Velosamba into a vegan shoe – complete with an upper made from minimum 25% recycled materials – the Earth-friendlier Velosamba chimed even more harmoniously with the cycling world. A world with the environment very much at its heart.
Along with the shoe's updated construction, adidas also gave the Velosamba an aesthetic rework. This latest drop continues to riff on that, releasing in the racey combination of "Cloud White/Team Navy Blue 2/Better Scarlet."
Which, once again, just makes sense.
Billie Eilish Air Force 1 Low in "Triple White"
Release Details: Available to order now, priced at $130 USD, from Nike and the Billie Eilish web store.
As far as sneaker collaborations go, the ongoing relationship between Nike and Billie Eilish ticks a lot of boxes – without feeling like an exercise in box-ticking. It's an all-too-rare example of a shoe that shows both parties at work.
In this case, Eilish's own well-documented admiration for Nike kicks and her own (equally well-documented) veganism are clearly at play: Eilish has no desire to reinvent the design wheel when it comes to the Air Force 1, only to bring it further in line with her own plant-based values.
And, comprising recycled rubber, fruit-based leather and a cork insole, the Nike x Billie Eilish Air Force 1 Low does exactly that. Taking a break from the earthier "Mushroom" and "Sequoia" tones of its predecessors, this new "Triple White" iteration may seem a little cautious – but, in reality, the wider appeal of an all-white silhouette is a bold move to take this vegan sneaker even further into the mainstream.
On Running ROGER Club Midi in "Black/Eclipse"
Release Details: Available now, priced at $169.99 USD, from the On Running web store.
At this point, the name Roger Federer is more or less a synonym for tennis; it's hard, if not impossible to imagine one without the other. Another Swiss export, On Running has moved from scrappy sportswear upstart, through collaborations with enormous household names of fashion such as Loewe, and up to the point of being a (if not quite the) go-to brand for serious athletes.
That the brand and its compatriot sports star should work together on a dedicated tennis shoe seemed more or less inevitable. Less inevitable was the fact that shoe would mix recycled materials and animal-free leathers in a high-end, low-impact offering.
This latest string to the ROGER collection adds another colorway to the Clubhouse Mid silhouette. "Black / Eclipse," doesn't exactly sound like ideal tennis conditions – but it makes for a sleek new look to the 2022 release.
adidas Football x Parley for the Ocean
Release Details: Available now, priced from £80 to £250 GBP, directly from adidas.
Using Parley Ocean Plastic isn't new for adidas – the sportswear giant has used the recycled waste on everything from high-performance running sneakers to sweatshirts and even kids' shoes. This latest collaborative effort, though, pushes things further.
A three-pack of soccer boots – including the Predator Accuracy, X Speedportal and Copa Pure – the newly-released Parley Pack is a testament to the material's functionality at the highest level. To work as a soccer boot, these kicks need to pass muster on comfort, strength, durability and aerodynamics.
Presuming that they do, else why would either brand have staked its name on the release, this pack also gets the thumbs up for aesthetics. They look good. And, in some ways, that's a more impressive feat for cleats than their gameplay credentials.
CAMPER KOBARAH Unisex Sandal
Release Details: Available now, priced at $155 USD, from the Camper web store.
At FUTUREVVORLD, we do our best not to give "bad" the time of time. In giving priority to the "good," however, we also sometimes end up shining a light on the "ugly." And so it goes with the KOBARAH – Camper's latest entry into the Earth-friendlier footwear forum.
Described on the brand's website as "A Little Better, Never Perfect" – which certainly chimes with our own "Progress Over Perfection" mantra – the KOBARAH's upper is crafted from 100% recycled materials. On the downside, that material is EVA – which is less harmful to humans than PVC, but isn't really any more environmentally sound.
Its XL EXTRALIGHT® Organix™ outsoles, however, are made from 30% bio-based sugarcane. Which does beg the question of what that other 70% is doing. Almost as much as the question of why it looks like that.
Almost.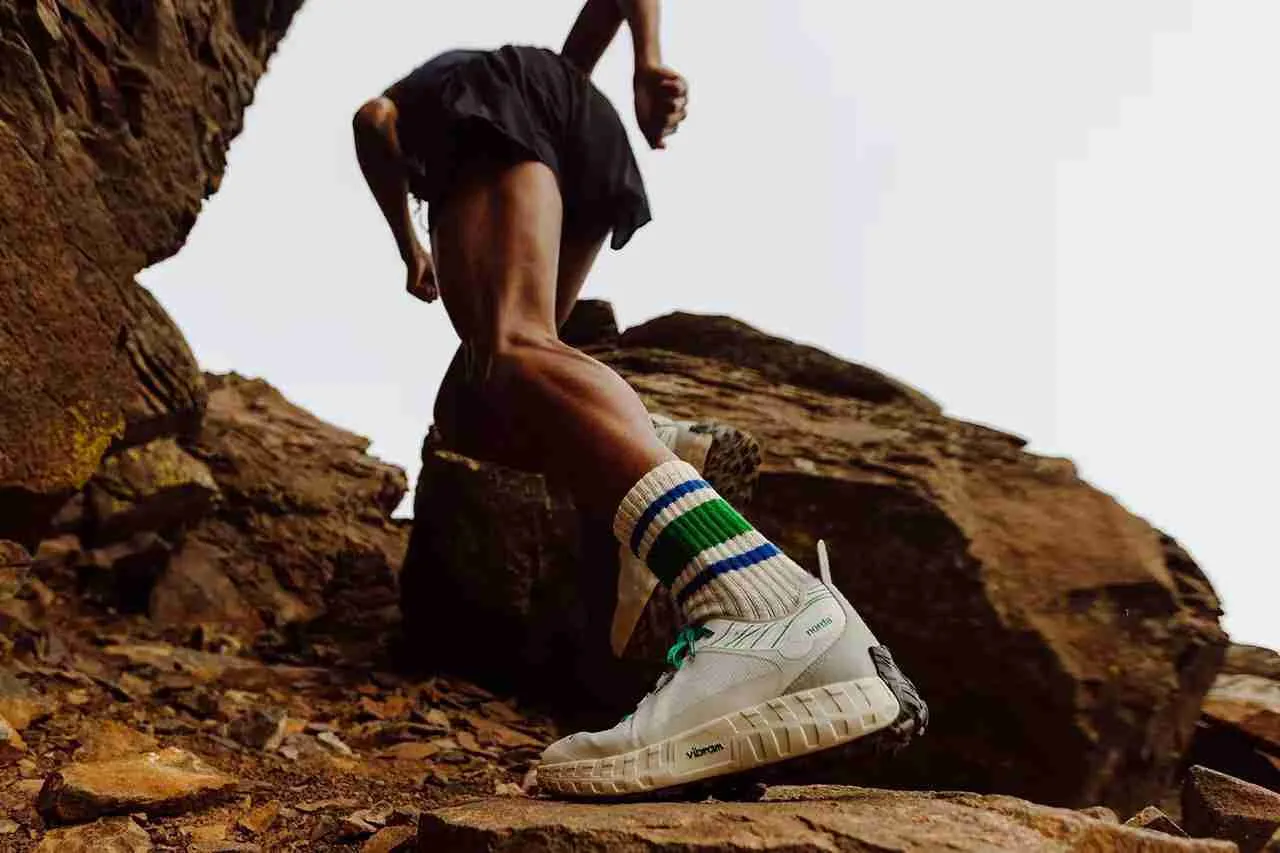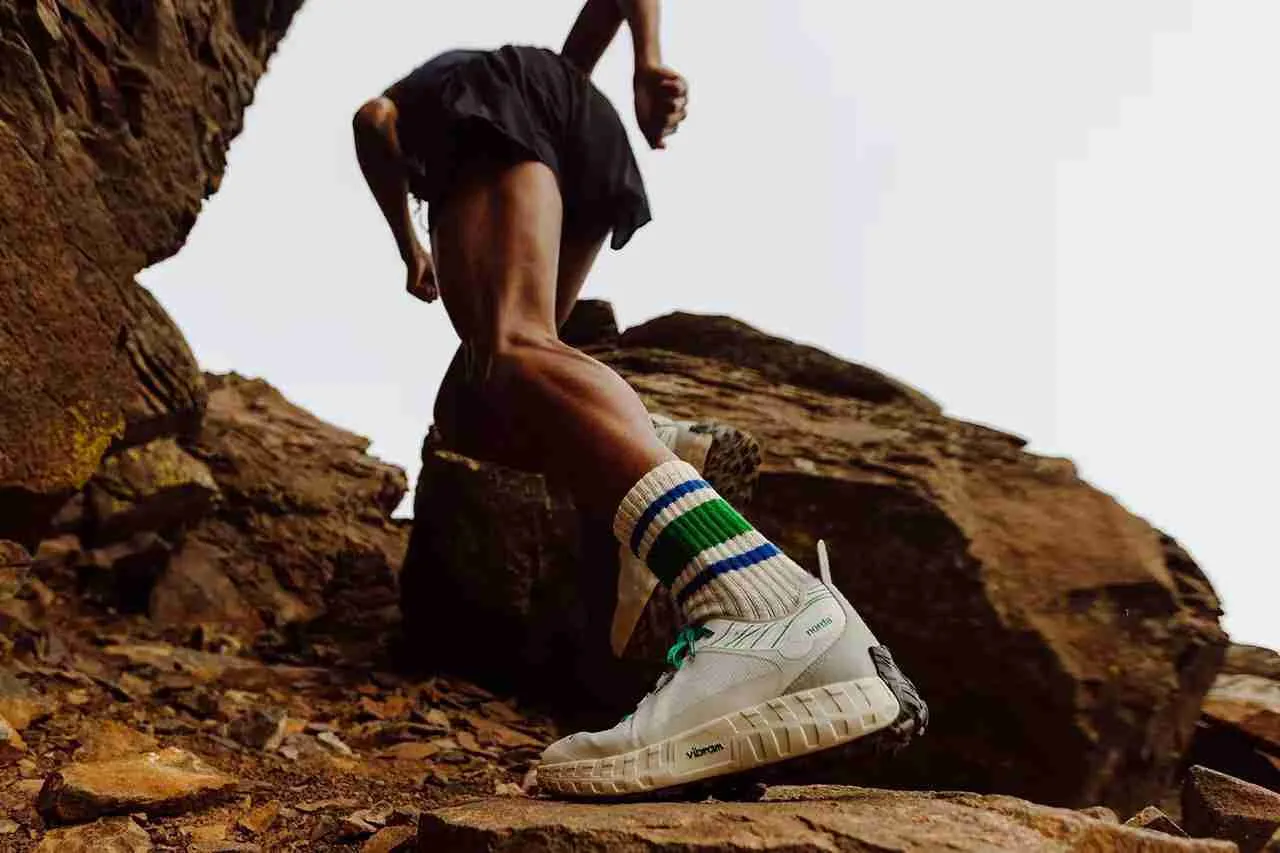 norda 001, "Lemon," ""Retro White/Forest"" and norda 001 x Ray Zahab in "Azure"
Release Details: Available now, priced at $285 CAD, directly from norda.
The folks at norda are busy. In the last 12 months alone, the Montreal-based brand has collaborated with cult running brand Satisfy and Italian fashion house Zegna on reworks of its signature 001 trail silhouette. But, of course, they're not done yet.
Releasing two new colorways of the 001 – now available in the fresh-feeling "Retro White / Forest Green" and the sharp zing of "Lemon" – this latest drop also features yet another collaboration. This time with the long-distance runner Ray Zahab, whose "Azure" signature is a confirmation of norda's dedication to the art and act of running beyond the temporary and quickly-devalued currency of clout.
With an upper crafted from a woven, bio-based material called Dyneema® – selected for "highest performance, abrasion resistance and the lightest footprint" – and recycled materials integrated across the shoe, the norda 001 also remains as committed to sustainability as it does to speed and exploration.